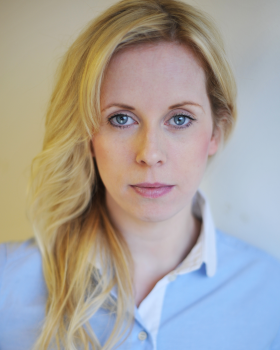 CREDITS
2012
White Christmas
Musical
Ensemble understudied and played Judy, u/s Rita
Michael Rose Ltd
David Morgan, Chris Hornby, Robert Scott (MD)
2011
Colgate
Commercial
Interviewed female
Colgate Palmolive
2011
Collins Workplace English DVD-Rom
Educational
Sally (Secretary)
Harper Collins
Hilary O'Hare
2011
Summer Ice Spectacular
Musical
Lead Singer
Jordan Productions/Wild Rose Productions
Chris Jordan, Robert Cousins/Mark Dickman (MD)
2011
The Bandwagon (Lost Musicals Season)
Musical
Adele Astaire
The Lost Musicals
Ian Marshall Fisher, Jason Carr, Nick Winston
2011
Educational audio book: 'Context', gleerups
Voice Over
Short stories, various voices
Teflonstage
Tony Cutler, Svante Skogland, Albany Studios
2010
Gotta Sing Gotta Dance
Musical
Featured Singer/Dance
Jordan Productions
Chris Jordan, Nick Winston, Robert Cousins
2010
Snow White and The Seven Dwarfs
Pantomime
Fairy GoodApple
Jordan Productions
Paul Laidlaw/Chris Jordan
2010
A Flea In Her Ear, Flare Path, Cause Celebre, Shrek
Promo
Vox Pops Interviewer
AKA Promotions
Khalil Heresh, Richard Arnold, Simon Gooden
2009
Oliver!
Musical
Ensemble, u/s + played Milkmaid/Strawberry sellers
Cameron Mackintosh
Rupert Goold/Matthew Bourne
2008
Mary Poppins
Musical
Assistant Dance Captain, U/S, Played Miss Lark
Cameron Mackintosh
Richard Eyre, Stephen Mear
2007
The Spectacular Safari, Cinque Terre
Audio
English Voice Over
www.feelingforlanguage.co.uk
David Ansell
2007
London Astoria
Commercial
Featured dancer
London Astoria
2007
Barbara Cook and Friends (World Aids Day Benefit Concert)
Musical
West End Ensemble (Carousel Waltz) London Coliseum
Richard Douglas Productions
Bill Deamer/Gareth Valentine
2006
Paris Mon Amour
Cabaret
Jennifer
Showstoppers Productions
Paul Walsh
2005
Totally Frank
Television
Actor/Dancer
Endemol
Paul Whittington
DETAILS
| | |
| --- | --- |
| Location: | London/Cardiff |
| Height: | 5'6" (167cm) |
| Weight: | 9st. 2lb. (58kg) |
| Playing Age: | 16 - 30 years |
| Appearance: | White |
| Eye Colour: | Blue-Green |
| Hair Colour: | Blond(e) |
| Hair Length: | Long |
| Voice Quality: | Clear |
| Voice Character: | Engaging |
SKILLS
Accents & Dialects:(* = native)
American-New York, American-Southern States, American-Standard, Australian, Bristol, Cardiff*, Cockney, Dorset, Essex, French, Geordie, German, Irish-Southern, Liverpool, London*, Northern, RP, Scottish-Standard, Swansea, Welsh-Standard
Languages:(* = mother tongue)
English*, French, German
Music & Dance:(* = highly skilled)
Ballet*, Ballroom Dancing, Cabaret Dancing*, Cabaret Singing*, Can Can, Charleston, Choral Singing, Choreography*, Classical Singing, Contemporary Dance*, Folk Singing*, Jazz Dancing*, Jazz Singing*, Jive, Opera, Rock Singing, Salsa Dancing, Soprano*, Tango, Tap*
Performance:
Audio Books, Childrens Theatre, Comedy, Live Roleplay, Musical Comedy, Outdoor Performances, Physical Theatre, Radio Presenting, Singer-Professional, Story Telling, TV Presenting, Voice Over
Sports:(* = highly skilled)
Athletics, Horse-riding, Ice Skating, Netball, Parasailing, Pilates, Running, Skiing, Swimming*, Yoga*
Vehicle Licences:
Car Driving Licence
Other Skills:
Improvisation, Narration, Photographic Model
AGENT
JEFFREY & WHITE MANAGEMENT LTD.
2 Ladygrove Court, Hitchwood Lane, Preston, Hitchin, Hertfordshire SG4 7SA
Phone: 01462 433752
Email: info@jeffreyandwhite.co.uk